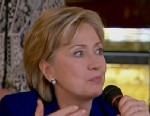 Can Hillary Cry Her Way Back to the White House?
By Maureen Dowd
"...There was a poignancy about the moment, seeing Hillary crack with exhaustion from decades of yearning to be the principal rather than the plus-one. But there was a whiff of Nixonian self-pity about her choking up. What was moving her so deeply was her recognition that the country was failing to grasp how much it needs her. In a weirdly narcissistic way, she was crying for us. But it was grimly typical of her that what finally made her break down was the prospect of losing....

"...Yet, in the end, she had to fend off calamity by playing the female victim, both of Obama and of the press. Hillary has barely talked to the press throughout her race even though the Clintons this week whined mightily that the press prefers Obama.

Bill Clinton, campaigning in Henniker on Monday, also played the poor-little-woman card in a less-than-flattering way. "I can't make her younger, taller or change her gender," he said. He was so low-energy at events that it sometimes seemed he was distancing himself from her. Now that she is done with New Hampshire, she may distance herself from him, realizing that seeing Bill so often reminds voters that they don't want to go back to that whole megillah again.

Hillary sounded silly trying to paint Obama as a poetic dreamer and herself as a prodigious doer. "Dr. King's dream began to be realized when President Johnson passed the Civil Rights Act," she said. Did any living Democrat ever imagine that any other living Democrat would try to win a presidential primary in New Hampshire by comparing herself to L.B.J.? (Who was driven out of politics by Gene McCarthy in New Hampshire.)

Her argument against Obama now boils down to an argument against idealism, which is probably the lowest and most unlikely point to which any Clinton could sink. The people from Hope are arguing against hope...."Read more.
Also See: