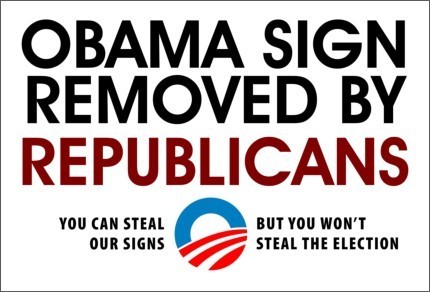 Huffington Post reports:
After Obama signs were taken down in Placitas, New Mexico, Gary Priester, a graphic designer, and a neighbor, went to work putting them back up.

People went down the main highway through Placitas, New Mexico where I live and removed the Obama signs. I had a neighbor who has a large format printer print some signs which I put in place of the missing signs that read OBAMA SIGN REMOVED BY REPUBLICANS - (OBAMA LOGO) YOU CAN STEAL OUR SIGNS - BUT YOU WON'T STEAL THE ELECTION.